How to Safely Operate a Bucket Truck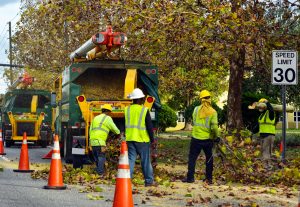 Operating a bucket truck requires attention to safety. Some accidents may not be preventable, but you want to minimize the hazards as much as possible. In addition to making sure your equipment is working properly, you also want to see that others don't run into your truck, its boom, or your team.
Daily Safety Checks
Before you leave for a job be sure to check your truck and the equipment. Look for any damage, leaks, or broken or missing parts. At your worksite, it's best to park on even ground if possible. Be sure that your wheels are chocked and that there is nothing overhead to obstruct your equipment. Your emergency brake should be on.
It also helps to take stock of traffic patterns. For example, if you are working at an intersection, use extra signage, and request a police officer to direct traffic. When your boom is expected to cross over a second lane, both lanes should be blocked off.
Prevent Accidents from Inside the Bucket
Make sure you are following these safety guidelines to prevent tipping over and other kinds of hazards when you are working inside the bucket:
Keep Your Fee on the Floor

Strap Yourself In

Stay Off the Edge of the Bucket

Keep the Bucket Free from Ladders and Step Stools

Wear Fall Protection
When you are searching for used forestry bucket trucks for sale, contact Centec Equipment Sales for safe trucks that have been thoroughly refurbished from top to bottom.