Inventory Categories: Crane & Knuckle Booms

A knuckle-boom crane is similar to a standard crane except that its boom folds back like a finger, which provides a small size for storing and maneuvering. One of these used cranes from our inventory is versatile enough to be cab-mounted, truck-mounted, tractor-mounted, or trailer-mounted. Some other names for the knuckle-boom crane are:

Picker Crane
Loader Crane
Articulating Crane

Purchase a knuckle-boom crane when your projects require maneuvering in tight spaces. This crane is able to lift heavy objects and put them inside buildings through extremely small spaces like doorways.

Also, its light weight makes it easier to mount behind a truck cab. Some knuckle-boom cranes can also be operated by a remote-controlled radio.

Contact us when you want to find out about the features and benefits offered by a knuckle-boom crane. This flexible crane can be mounted on the same truck that hauls all your materials and offloads them at the job site, which saves you time and money. Also, be sure to ask us about our used forestry bucket trucks for sale and the used boom trucks we are currently offering.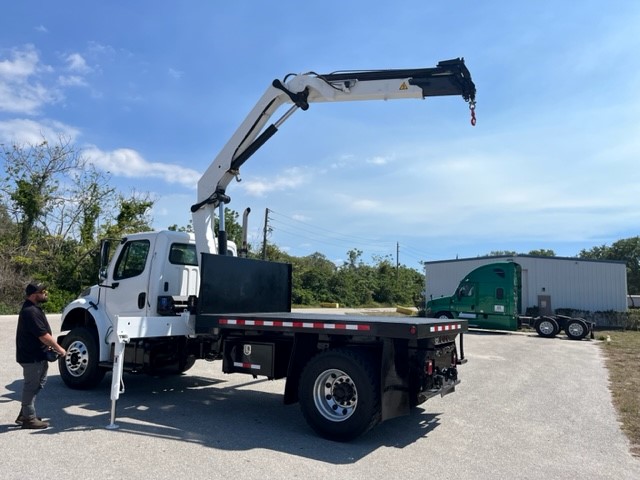 STOCK # X6041 2013 FREIGHTLINER M2 106 11,025 LBS KNUCKLE BOOM CRANE $79,850.00 USD

Make / Model

FREIGHTLINER M2 106